One micro copy change increased conversions by 20%
A lead generation form on the organization's website had a low conversion rate due to misleading micro copy. The call-to-action button that directed users to the signup form said that users could find "more information." Instead of finding more information, prospective customers who clicked the button were asked to submit their personal information—a frustrating experience that led to many site exits each day. The organization needed to capture leads while building users' trust.
Caleb changed the CTA button copy from "More Info" to "Request Info," using language that more clearly describes the link destination.
+20% increased conversion rate
Users can navigate the site with confidence, building trust and increasing engagement

UX writing
Google Analytics
Prospective students are serious shoppers who look for as much information as possible. That's because the decision to pursue graduate school is a big deal. Graduate school is expensive, time-intensive, and students typically have to move to a new city (or country). At the University of Chicago Harris School of Public Policy, each program costs nearly $100,000 and most programs take two years to complete.
With this in mind, it shouldn't be surprising that a CTA button with the words "More Info" generated a lot of traffic, especially when the button is located at the bottom of degree program pages.
Google Analytics & the user journey
After setting up conversion tracking in Google Analytics, Caleb quickly identified the form's low conversion rate. Caleb reviewed the website and available data to understand the typical user journey to the form:


Visit a product page
Click a button that says "More Info"
Arrive on a page that asks for personal information


Talk about confusing and frustrating! When users clicked on "More Info," many of them probably expected to find more information about the product. Instead, users were asked to provide their personal information.
By changing the CTA button copy from "More Info" to "Request Info," Caleb provided a stronger information scent. Within a few months, about 30% of page visitors were submitting the form, a 20% increase compared to the one-month period prior to the copy change.
But that's not all. While the percentage of submissions increased, the average number of submissions remained about the same over time. In other words, the form has far less traffic but it continues to capture leads at the same pace.
These data suggest that the new microcopy gives users more control over how they navigate the site, building trust and providing a more satisfying user experience.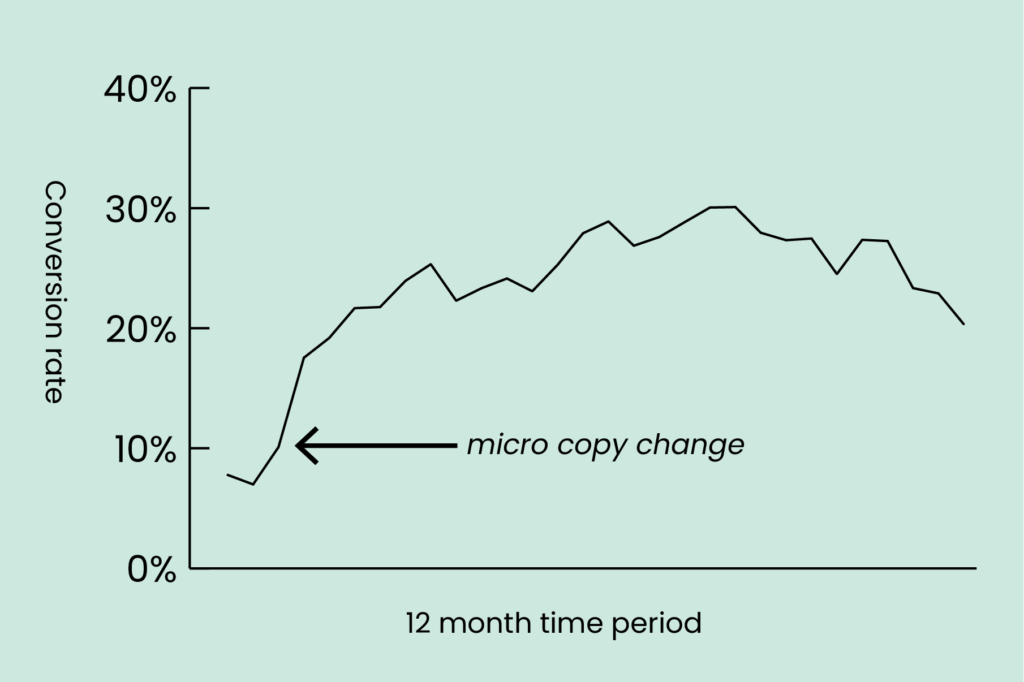 Caleb managed the project from start to finish, identifying the issue in Google Analytics, proposing the new copy as a solution, and implementing the changes.
Caleb consulted with his UX team and the organization's sales team before making the change.
See Caleb's other projects